日本列島の各地にみられる古墳群の中でも、特に大規模な前方後円墳が集中し、今も残っている「百舌鳥・古市古墳群」が、大阪初の世界文化遺産登録に向けて盛り上がりを見せている。スピリチュアルな空気を体験しよう。
Among groups of ancient mounded tombs (kofun) seen in various regions of the Japanese archipelago, it is the "Mozu-Furuichi Kofun Group" where gigantic keyhole-shaped tombs were built in the largest concentration and survive today. Looking forward to the first World Heritage status to be granted in Osaka, the historic site is now generating more excitement than ever. Here, we can breathe its spiritual atmosphere.
百舌鳥・古市古墳群
Mozu-Furuichi Kofun Group
堺市の「百舌鳥エリア」と、羽曳野市・藤井寺市の「古市エリア」の二つのエリアからなる古墳群。世界最大級の墳墓である「仁徳天皇陵古墳」(堺市・墳丘長486m)や「応神天皇陵古墳」(羽曳野市・同425m)に代表される巨大前方後円墳をはじめ、大小様々な古墳が数多く現存。
This is a mounded tomb group consisting of the Mozu area (Sakai City) and the Furuichi area (Habikino and Fujiidera Cities). A large number of tombs of varying sizes remain until today, including the giant keyhole-shaped mounds such as Nintoku-tenno-ryo Kofun (Sakai, mound length: 486m) and Ojintennoryo Kofun (Habikino, mound length: 425m) of the world's largest burial mounds.
06-6210-974206-6210-9742(百舌鳥・古市古墳群世界文化遺産登録推進本部会議)

(Conference Headquarters for the Promotion of Mozu-Furuichi Kofungun)

見学自由

No reservation required.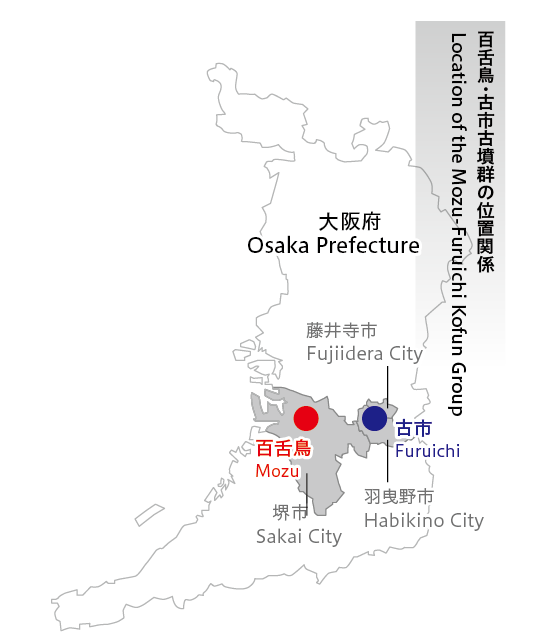 路面電車に乗ってみよう!
LET'S RIDE ON A TRAM!
"チンチン電車"の愛称で親しまれて約100年。堺の中心地から浜寺公園まで堺の風景を味わわせてくれる。2013年導入の堺トラムのほか、日本で現役最古の車両(1928年製造)が走ることも。
The tram, affectionately known as the "streetcar", has been operating for about 100 years. It allows you to get a taste of the scenery of Sakai from the city center to Hamadera Park. The oldest active tram (manufactured in 1928) in Japan is operating in addition to the Sakai tram that was introduced in 2013.
お得な全線1日フリー乗車券 てくてくきっぷ
''TAKE TAKE'' Ticket 1DAY PASS
恵美須町、天王寺駅前、浜寺駅前など、全線で使えるフリー乗車券は大人600円。スクラッチ式で乗車する日を削るスタイルはどこか懐かしい。二つ折りの紙も手作り感満載。
The free ticket can be used on all lines, such as Ebisucho, Tennoji-ekimae, and Hamadera-ekimae, and costs 600 yen for an adult. The scratch-type tickets, which are clipped on the day of use, are somewhat nostalgic. The folded paper also gives the ticket a fully handmade feel.
大人600円/ 小児300円 / 天王寺駅前・新今宮駅前・我孫子道・浜寺駅前の各乗車券発売所などで発売中

Adult: 600 yen/Child:300 yen Tickets are sold at the ticket offices of Tennoji-ekimae, Shinimamiya-ekimae, Abikomichi, and Hamadera-ekimae.